Event Management in Bangalore
Zzeeh is one of the Best Event Management in Bangalore. Being a Top Management Company for several years, it's attracting more attention from the customers. When it involves to convention venues, there's a wide range to choose from. Here are a number of the best venues that will continue to justify your choice.
Zzeeh is a well-recognized Event Management in Bangalore.  We've great valuable experience in providing Event Management for all types of events. We make sure that each component of the event will be executed as per plan; our team tirelessly works to deliver the specified output to the client and what makes us one of the best event companies in Bangalore. We specialize in Corporate Event Organisers in Bangalore like conferences, seminars, Exhibitions, etc. Zzeeh Events and Weddings are the one-stop solutions for all your Event Management services.
Venues
Selecting the proper venue for your wedding might be one of the toughest tasks to be undertaken. Bearing in mind what's best for you, and your partner, the team at Zzeeh helps you select a venue that accommodates your every single need.
Apart from singling down on a venue, we aim at transforming any regular venue to an environment filled with energy and joy. As one of the premium Marriage Decorators and Wedding Planners in Bangalore, we also offer benefits in providing information regarding different venues no matter how minor the detail.
Managing an event is as important as your wedding is equally crucial to us and rest assured, we'll recognize your needs and arrange for a venue in perfect accordance. We'll provide you with a list of venues that fit your requirements along with a detailed summary of each.
Blending comfort and efficiency together, because of the Best Event Management in Bangalore, we'll assist you to make the kind of atmosphere that you simply would remember for years to come.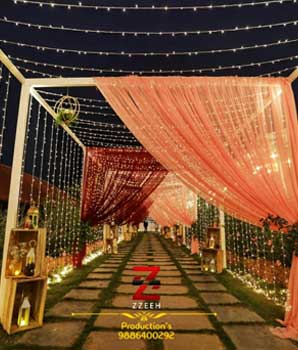 Every event gets auspicious and special when it is done in the proper way. Now get your very event one step ahead to be dreamlike and attractive with the Event Manager. Zzeeh is one of the Best Event Management in Bangalore. We all set to comfort you with its Best Wedding Decorators in Bangalore, wedding vendors and a lot more. It's quite impossible to require the responsibilities of an occasion, but our team of Zzeeh handles it perfectly with its experience.
​