Wedding Decorators in Bangalore
Lighting is one of the most attractions at a wedding, hence we ensure one the Best Wedding Decorators in Bangalore. With us, we have various illumination patterns available and we even customize these patterns according to your suitability.
Wedding Decorations are considered as one of the most noticeable attractions for everyone's wedding. These decorations are important because they set the atmosphere of the event. They highlight the venue and the Ceremony Decorations and make them fit for your occasion
​A wedding is a special event and all aspects of a wedding, including wedding decorations, are considered important. A Marriage decoration is a must for the stage setting occasion, whether it's a simple decor or an extravagant affair. We are more focused on the event and the venues.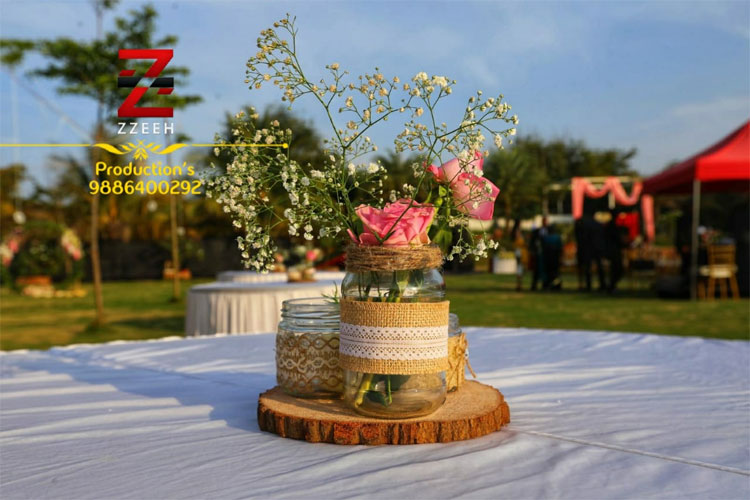 We'll continue to create a template that will reflect this definition and work from it throughout the Party Planning process to make sure that the entire day reflects your concepts perfectly.
A wedding is a visual spectacle rife with a pleasant display of colours and lights. Do you wish for a marriage that seems charmingly regal complete with Glittering Chandeliers? Or even a specific theme of your choice? These specifications pose no problem to us when it involves execution as we've already managed such detailing with great success.
We are providing our clients with a variety of Wedding Hall Entrance Decorations. Our quality and reliable approach towards services have helped us in achieving the entire satisfaction of the customer.
Even if you're clueless on how your venue should look like, or have a specific layout in mind, Zzeeh Wedding Decorators in Bangalore will work along these boundaries to make sure an appropriate ambience. Beginning and handcrafting unique elements, finding the best suppliers and briefing them on execution your concept making them with Colorful Wedding Decorations – we have got it all covered at.
Everything is considered from the little details to those which stand out by themselves to make the most memorable experience for you and also well as your guests. We'll discuss in detail what you want from the grand day and how those specifics will help you get a look that fits your style and personality.
​To Get a Quotation. Click Here: